Pick Up

Available

Australian

Warranty

Checkout

Securely
---
Pickup - FREE
Pickup from our store at Unit 12 , 153-155 Rooks Rd VERMONT, VIC 3133 (Please wait for Pick-Up Ready Notification email )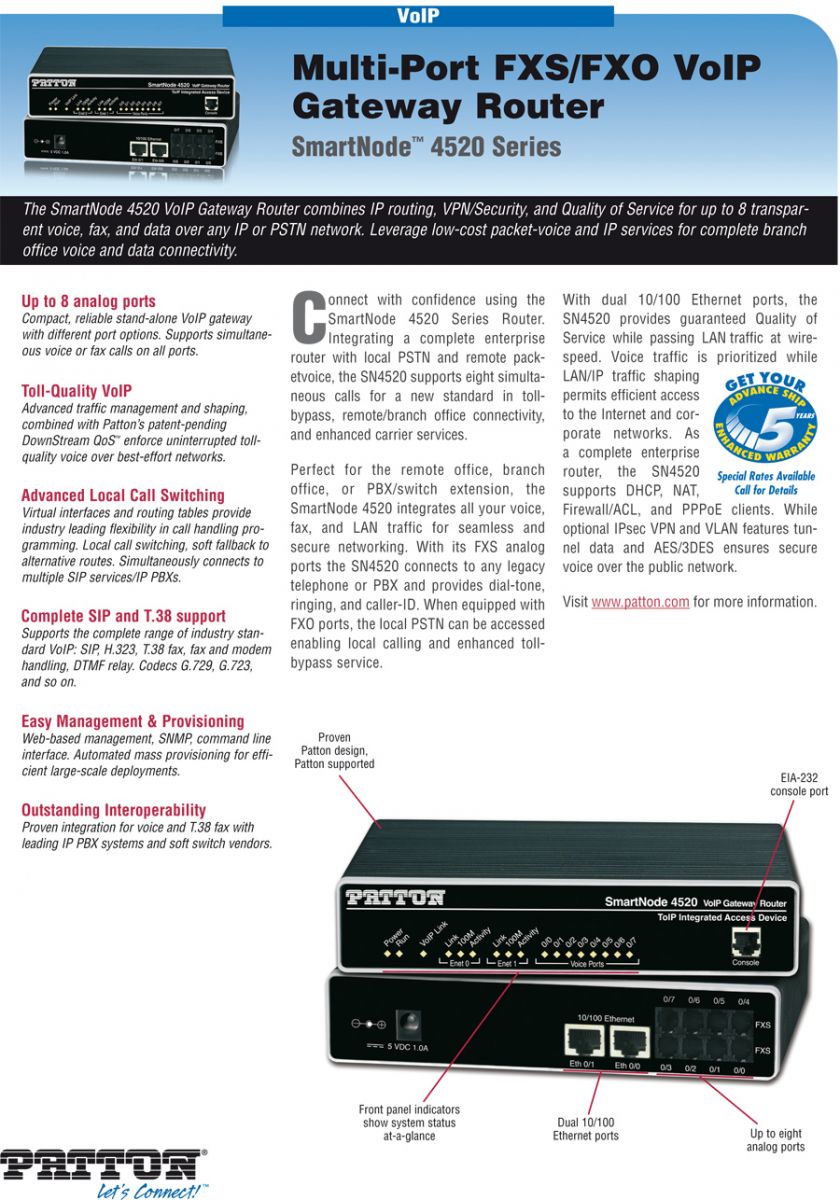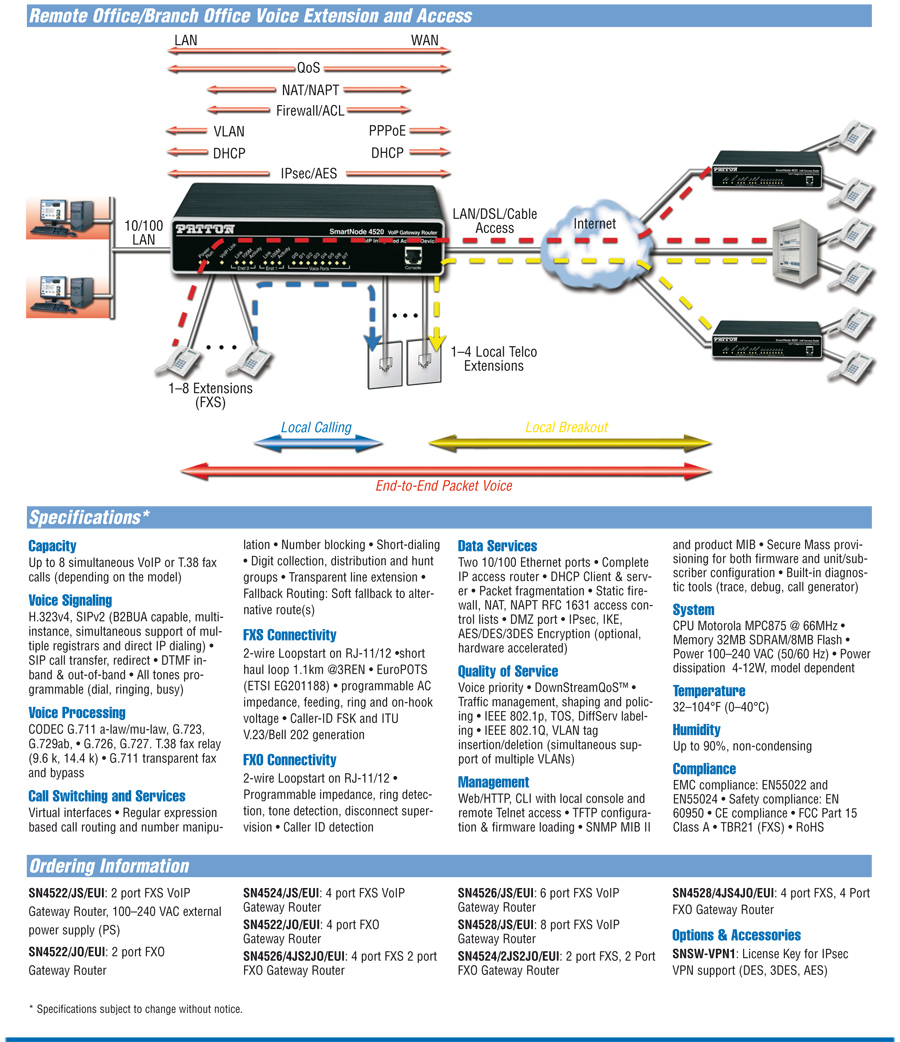 The SmartNode 4520 Series Gateway-Router supports up to 8 FXS or FXO telephone connections. It combines VoIP with advanced Quality of Service and full Internet access and security features to provide best-in-class service and voice quality.
Connect with confidence using the SmartNode 4520 VoIP Gateway Router. Integrating a complete enterprise router with a full-featured Voice-over-IP Media Gateway offers the new standard in toll-bypass, remote/branch office connectivity, and enhanced carrier services. Perfect for the Remote office, Branch office, or PBX/Switch extension, the SmartNode 4520 integrates all your voice, FAX, and LAN traffic for seamless and secure networking.
With its FXS analog ports the SN4520 Series supports up to eight simultaneous calls, connects to any legacy telephone or PBX, and provides dial-tone, ringing, and caller-ID. When equipped with FXO ports, the local PSTN can be accessed enabling local calling, enhanced toll-bypass services, and fallback configurations. ClearConnect™ adaptive network monitoring ensures your call always gets connected even if the VoIP link goes down or becomes congested.
With dual 10/100 Ethernet ports, the SN4520 Series provides IP routing with guaranteed Quality of Service. Voice traffic is prioritized while LAN/IP traffic shaping permits efficient access to the Internet and corporate networks. As a complete enterprise router, the SN4520 supports DHCP, NAT, Firewall/ACL, and PPPoE clients. While IPSEC VPN and VLAN tunnel data while DES, 3DES or AES enables secure voice and data over the public network.
This integrated access router and VoIP Gateway benefits service providers and enterprise network administrators with a lower cost of ownership and better service quality.
(SN4522JS)
•

Up to 8 analog ports

-

Compact, reliable stand-alone VoIP gateway with different port options. Supports simultaneous voice or fax calls on all ports. (note: Patton does not carry an 8-FXO unit at the present time)

•

Toll-Quality VoIP

-

Advanced traffic management and shaping, combined with Patton's patent-pending DownStream QoS™ enforce uninterrupted toll-quality voice over best-effort networks.

•

Advanced Local Call Switching

-

Virtual interfaces and routing tables provide industry leading flexibility in call handling programming. Local call switching, soft fallback to alternative routes. Simultaneously connects to multiple SIP services/IP PBXs.

•

Complete SIP and T.38 support

-

Supports the complete range of industry standard VoIP: SIP, H.323, T.38 fax, fax and modem handling, DTMF relay. Codecs G.729, G.723, and so on.

•

Easy Management & Provisioning

-

Web-based management, SNMP, command line interface. Automated mass provisioning for efficient large-scale deployments.

•

Outstanding Interoperability

-

Proven integration for voice and T.38 fax with leading IP PBX systems and soft switch vendors.
Voice Connectivity
2, 4, 6, or 8 FXS ports

•

2-wire Loopstart, RJ-11/12

•

Short haul loop 1.1 KM @3REN

•

EuroPOTS (ETSI EG201 188)

•

Programmable AC impedence, feeding, and ring voltage; On-Hook Voltage 29VDC

•

Caller-ID Type-1/2 FSK and ITU V.23/Bell 202 generation

2 or 4 FXO ports

•

2-wire loop-start presented as an RJ-11/12

•

2.5kV line isolation Surge Protection: Voice Ports: Tip & Ring protected by 270 V side actor

•

Off-hook and ring detection, Automatic line gain, Programmable ring count

•

End of Call detection, Line drop, busy tone, battery reversal detection

•

Hook-Flash Sending, H.245 Hook-Flash relay, DTMF send, detect, and relay

•

Caller ID FSK CLI reception and relay (Bellcore/ANSI and ETSI/ITU), Call routing based on Caller ID

•

Second dial-tone for two-stage DTMF dialing, Call routing based on DTMF numbers

Data Connectivity

•

Dual 10/100 Full Duplex, Autosensing, Ethernet RJ-45

Voice Processing (signalling dependent)
Voice codes

•

G.711 A-Law/µ-Law (64kbps)

•

G.726 (ADPCM 40, 32, 24, 16 kpbs)

•

G.723.1 (5.3 or 6.3 kbps)

•

G.729ab (8kbps)

Up to 8 parallel voice connections
G.168 echo cancellation
Carrier tone detection and generation
Silence suppression and comfort noise
Configurable dejitter buffer
Configurable tones (dial, ringing, busy)
RTP/RTCP (RFC 1889)
Fax and Modem Support

•

G.711 Fax- and Modem-Bypass

•

T.38 Fax relay (9.6 k, 14.4 k)

Voice Signalling
H.323v4

•

RAS, H.225, H.245

•

H.235 secure RAS

•

Fast-connect, early H.245

•

Gatekeeper autodiscovery, Alias registration

•

Overlap dialing

•

Empty capability set (call transfer, hold)

•

H.323v1 call transfer, hold

SIPv2

•

Supported RFCs: 2806, 2833, 2976, 3261, 3263, 3264, 3323, 3325, 3515

•

draft-ietf-sip-cc-transfer-02, draft-ietf-sip-cc-transfer-05

•

draft-ietf-sip-refer-02, draft-ietf-sip-replaces-01

•

draft-ietf-sip-session-timer-04, draft-ietf-sip-session-timer-08

•

Caller ID, CLIR (receive from PSTN)

•

Support for proxy and redirect servers

•

RFC2833: DTMF Relay, SIP INFO DTMF Relay, Fax-Bypass (G.711), T.38 Fax-Relay

•

Session Timer, Record-Routing, Authentication

•

Compression CODECs, Fax/Modem bypass

Call Routing

•

Virtual Interfaces

•

Routing Criteria: Called party number (Destination) Calling party number (Source) Time of day, day of week, date

•

Longest prefix match, wildcard match, regular expression match

•

Number Manipulation Functions: Replace numbers Add/remove digits Regular Expressions

•

Fallback Routing: Soft Fallback to alternative interface or Call Router table

IP Services

•

IPv4 router

•

Static Routes, ICMP redirect (RFC 792), RIPv1, v2 (RFC 1058 and 2453)

•

Static and dynamic NAT and NAPT

•

DHCP server and Client

•

Access Control Lists

•

IPSEC AH & ESP Modes, preshared Keys

•

AES/DES/3DES Encryption

Quality of Services

•

Traffic classification by ACL

•

TOS and DiffServ labeling Configurable TOS/Precedence bits or DiffServ codepoints

•

IEEE 802.1p/Q

•

Traffic scheduling: Priority, Weighted fair queuing (WFQ), Hierarchical traffic classes

•

Policing of traffic classes

•

DownStreamQoS™ Dynamic restriction of inbound (downstream) TCP traffic to free bandwidth for voice packets

•

Improves voice quality in the receiving direction

Management

•

Web GUI

•

Industry standard CLI with local console (CRJ-45, RS-232) and remote Telnet access

•

TFTP configuration & firmware loading

•

SNMP v1 agent (MIB II and private MIB)

•

Built-in diagnostic tools (trace, debug)

Operating Environment

•

Operating temperature: 0 - 40°C

•

Operating humidity: Up to 90% (non condensing)

System

•

CPU Motorola MPC875 @ 66 MHz

•

Memory 32MB SDRAM/8MB Flash

•

Power: External universal 100 - 240 VAC (50/60 Hz)

•

Power dissipation: 4 - 12W model dependent
| | |
| --- | --- |
| SKU | SN4522JS |
| Barcode # | 847840000988 |
| Brand | PATTON |
| Shipping Weight | 2.0000kg |
| Shipping Width | 0.150m |
| Shipping Height | 0.250m |
| Shipping Length | 0.200m |
| Shipping Cubic | 0.007500000m3 |
Manufacturer Warranty

1 Year Limited Warranty
Be The First To Review This Product!
Help other Device Deal users shop smarter by writing reviews for products you have purchased.