Gigaset A220A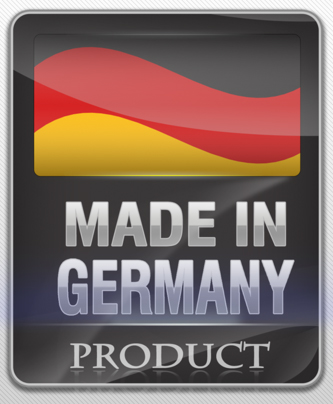 Inspiring Conversation
Standby 200 hours




Talk-time 18 hours




80 phonebook entries, 35 call logs, 1 E-mail memory, 25 incoming and 10 outgoing call memory




Alphanumeric keypad




1.4-inch illuminated display

Answering machine with up to 25 minutes of recording tim




Parallel call support with automatic dialParallel call support with automatic dial
OVERVIEW
For a reliable cordless phone that offers good value for the money and features an integrated answering machine, discover the Gigaset A220A. Its answering machine records up to 25 minutes of messages, providing a convenient way to receive all incoming calls while you are out. The phone is incredibly easy to handle and operate. For instance, the user-friendly keys with sensitive pressure points make dialling a pleasure. You also enjoy the convenience of handsfree talking with the click of a button. There are 10 polyphonic ringtones to choose from. Like all Gigaset cordless phones, the Gigaset A220A is equipped with Eco Mode Plus, making it an eco-friendly choice for your home.

The screen's large size ensures easy readability and handling. Dialling stays as simple as ever on the convenient keypad. Functions include call silencing, anonymous call blocking.
FEATURES
Equipped with an answering machine
The Gigaset A220A comes with a built-in answering machine for simple message recording and retrieval. It has a recording time of up to 25 minutes and can be operated either via the handset or remote control, allowing you to receive messages away from the base station within your household. With the Gigaset A220A, you can choose either an automated message or record a personal greeting.

Designed for user-friendliness
With the Gigaset A220A, calling is as straightforward as it gets. Plug & play makes the phone ready for use as soon as you bring it home, as the handset comes pre-registered to the base station. Dialling is pleasant with keys specially made with sensitive pressure points, and the illuminated, graphical display is easy to read and navigate. You can press the illuminated handsfree key at any point within a conversation to enjoy the freedom of handsfree talking. And you never have to worry about the Gigaset A220A's battery power, thanks to the long talk time of up to 18 hours and the long standby time of up to 200 hours.

Stores contact information
The Gigaset A220A has a phonebook that can save up to 80 contacts, allowing you to keep friends, family and important numbers reachable within seconds. The call list stores the numbers of 25 incoming and missed callers and 10 outgoing numbers, making return and repeat calls quick and effortless.

Offers practical functions
As an integral part of your everyday life, the Gigaset A220A provides you with the essential functions you need throughout the day. It indicates the date and time, and you can also use the alarm feature to program reminders. The Gigaset A220A also includes caller ID to keep you informed about incoming callers.

ECO DECT: Pure energy savings and radiation-free
The energy-saving power supply of the Gigaset A220A consumes less electricity, so it's kinder to the environment, and kinder to your wallet. Like all Gigaset cordless phones, it variably reduces the transmitting power from the handset to base station depending on their distance apart. Furthermore, radiation-free ECO Mode Plus turns off the transmitting power when the phone is in standby.

Enjoy the reliable features of the handsfree phone with an integrated answering machine – the Gigaset A220A.

1 The DECT transmitting power is switched off when handset is in idle mode – when all registered handsets support ECO Mode Plus.
2 Dependent on country, network, provider
3 Compared to conventional Gigaset base stations
4 The DECT transmitting power is switched off for all registered handsets – when all support ECO Mode Plus.

GIGASET - THE COMPANY
Gigaset (formerly Siemens Gigaset) is a world leader and Europe's most trusted brand in VoiP and DECT cordless phones for the home and business. With German research, development and manufacturing you can expect the latest technology and the highest possible quality from Gigaset cordless phones.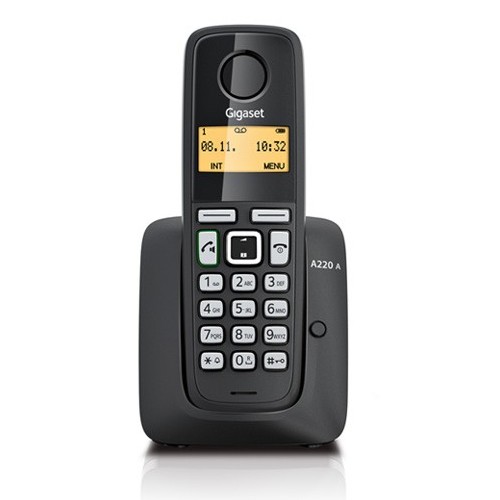 (A220A)
ANSWERING MACHINE FEATURES
Protection of recordings against power failure
yes
AM control via handset | via base station
yes
Date and time announcement
yes
Mailboxes up to … | PIN-protected
1 | yes
Predefined | individual announcements
yes | yes
Recording time up to … min. | playback of messages from external phone
25 | yes
Open listening at base station
-
Operate answering machine by voice command
-
SOS Function
-
CONVENIENCE - PHONING ESSENTIALS
Direct dial
yes
Bluetooth® function | Mini-USB
- | -
Dial by voice command
-
Automatic redial function in handset
-
Automatic dialing of operator prefix
yes
Last dialed ... numbers
10
Phonebook transfer: via DECT | via Bluetooth® | via LAN
yes | - | -
Phonebook | address book | entries
yes | - | 80
Standby time | talk time
200 | 18
Room monitoring
-
Vibracall
-
SIM card reader and writer
-
Live recording of calls
-
Calendar
-
Date reminder function | alarm call
- | yes
Plug-and-play installation
yes
Range indoors | outdoors
50 | 300
DISPLAY MENU AND FEATURES
Charging status displayed
yes
Call duration displayed
yes
Call charge displayed
-
Range displayed (handset to base station)
-
Date displayed
yes
Time displayed
yes
List of last … missed calls with time and date
25
Display of caller's number (CLIP) | picture (Picture CLIP)
yes | -
Easy-to-use text-based menu | jumbo fonts | icon-based
yes | - | -
... pixel, ... inch, ... colours and ... lines
15 (5 x 7) | 1.4" | b/w | 3
Display: illuminated | colour
yes | amber
Display: numeric | alphanumeric | semigraphical | graphical
- | - | - | yes
Multilingual menu for up to ... languages
28
ECO DECT
Up to 60% less power consumption
yes
Transmitting power at almost zero when handset docked
yes
Radiation-free ECO Mode Plus
yes
ECO Mode for reduction of transmitting power of base station by 80%
-
KEYPAD FEATURES
Navigation key
yes
Message indicator key
-
Colour of illumination
-
Illuminated keypad
HF key
MESSAGING FUNCTIONS
Up to … characters SMS | Email
- | -
Up to ... personalized SMS in-boxes
-
Email notification
-
OTHERS
Wall mountable
yes
Warranty
1 year
Batteries
2xAAA
SECURITY
Equipped with speech transmission encryption
yes
SOUND QUALITY
Hands-free talking | convenient hands-free | advanced hands-free
- | - | -
Headset connection | corded 2,5 mm | Bluetooth®
- | - | -
Adjustable handset volume
yes
Individual ringer melodies for VIP entries
-
HSP™ for brilliant sound quality
-
HDSP™ ready handset
-
Ringer melodies | polyphonic | real sounds I downloadable
10 | yes | - | -
TECHNICAL DATA
Standards DECT | GAP
yes | yes
Dimensions handset (H x W x D in mm)
151 x 47 x 31
Dimensions base station (H x W x D in mm)
89 x 80 x 61
Dimensions charger (H x W x D in mm)
75 x 69 x 38
Available colours
black
| | |
| --- | --- |
| SKU | A220A |
| Barcode # | 4250366827506 |
| Brand | Gigaset |
| Shipping Weight | 1.0000kg |
| Shipping Width | 0.160m |
| Shipping Height | 0.070m |
| Shipping Length | 0.220m |
| Shipping Cubic | 0.002464000m3 |
Manufacturer Warranty

12 Months Limited Warranty
Be The First To Review This Product!
Help other DeviceDeal users shop smarter by writing reviews for products you have purchased.