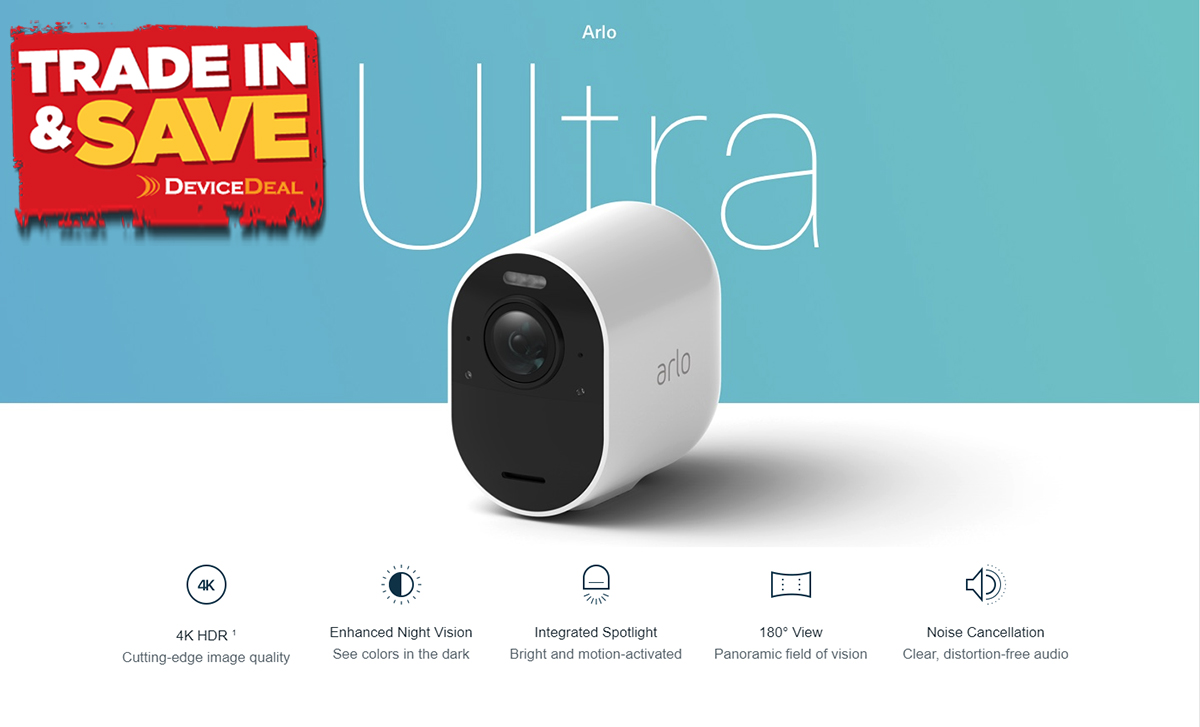 Arlo Trade-In Program

** Offer is for a limited time and only through Device Deal **
Trade-In Your Arlo Camera to Receive BIG Discounts on your Arlo Ultra & Arlo Pro 3 Purchase (Terms and Conditions Apply)

Trade-in value:

Arlo Pro 2
VMS4230P (Arlo Pro 2) - $150
VMS4330P (Arlo Pro 2) - $250
VMS4430P (Arlo Pro 2) - $350
VMS4530P (Arlo Pro 2) - $450
VMC4030P (Arlo Pro 2) - $50

Accessories
VMA4600 (Arlo Solar Panel) - $30
VMA4400C (Arlo Pro Charging Station) - $25

Terms & conditions
By participating in the Device Deal Arlo Trade-in Program ("Program"), you agree to the following terms & conditions:

You represent and agree that you are authorized to trade in your devices to Device Deal and that you have ownership, title, and interest in any devices submitted under the Program. By participating, you agree to transfer all ownership, title, and interest in the devices to Device Deal.
You understand that your trade-in credit can only be used as a discount when purchasing Arlo Ultra Products from Device Deal. Credit cannot be used in the purchase of other products available through Device Deal.

You agree to remove storage accessories such as USB memory.

You also agree that any devices you submit will not be returned to you and that any Content cannot be recovered. We will not return your devices to you due to a change of mind.
Following your acceptance of the offer, you must send the devices to us at your charge and responsibility.

You agree to accurately represent the make, model and condition of your devices in your Program submission, and that its final appraised value may be adjusted if:
Your devices do not match the make, model and condition in your Program submission;
We receive your devices more than thirty (30) days after your Program submission;
Your devices do not meet the eligibility requirements for the promotion code entered; or
You return or exchange your devices purchased under a promotion for another device not eligible for that promotion.
If your devices exhibit a damaged battery (for example, is leaking fluid, is too hot to touch or the devices casing is swollen), you must remove the damaged battery and dispose of it properly before providing the devices to us.
You agree that your devices have not been reported as lost or stolen, was not purchased with government funds, and is not government property. No trade value will be afforded to any devices reported as lost or stolen, purchased with government funds, or constituting government property.
To begin your claim process please send an email to
sales@devicedeal.com.au
with your original Arlo or Arlo 2 invoice number from Device Deal. Please confirm the items you would like to trade-in and your acceptance of the terms and conditions listed above.
Device Deal will reply with an approval number and instructions for the return of your Arlo products. Please do not return any products until you have received your approval number and instructions.